Drones and the Future of Farming
Sponsored by Driptech featuring Precision Aerial Group
DripTech Irrigation provides an end-to-end solution by advising on design and installation of irrigation and pump systems, supplying all the required equipment, and offering spares and technical back-up. It believes in building long-term relationships and creating lifetime partnerships and support for clients. The company is a family business that started in 1995 as a micro-irrigation company. It later expanded to providing for urban water requirements in the form of borehole pumps, water tanks, pressure tanks, booster pumps and related fittings and controllers.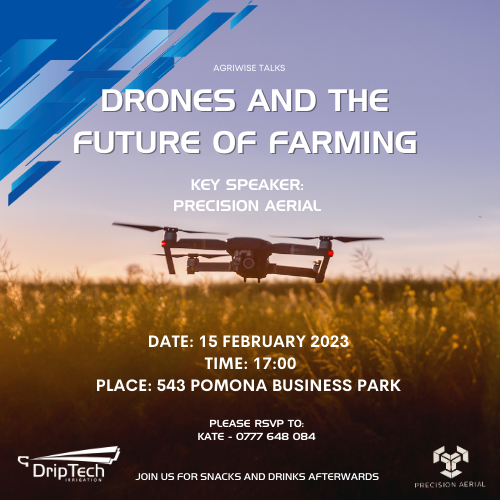 In recent years, the company has grown its outlet network within the capital city and regionally, whilst expanding its line of products considerably to become a one stop irrigation and urban water provider. The product lines now cover drip irrigation, centre pivot irrigation, overhead and micro-jet irrigation. In addition to this the range of pumps has grown to include submersible, booster, de-watering, mining and firefighting pumps. A wide range of filters and fittings is also offered, along with borehole equipment and generators.
DripTech has since introduced periodic Agriwise Talks where discussion groups consist of local farmers who meet to discuss and learn about technologies and practices that may be applied on their own farms.
In March 2023, the first talk of the year was titled Drones and the Future of Farming, and the keynote speaker was Tawanda Chihambakwe the Managing Director and Chief Drone Pilot of Precision Aerial Group. During his talk Tawanda started off by giving a brief history of the company and his expertise.
The Zimbabwean Flying Labs is a fully integrated technology hub that facilitates the exchange of knowledge, networking, and skills development in the field of drones and robotics. It provides basic "Remote Pilot Licence" (RPL) training and offers a variety of advanced drone training to professionals at all levels. The drone pilot training programs can be industry-specific drone a data application training, inclusive data acquisition and processing from drone surveys.
 Flying labs also offers services in agriculture i.e., crop spraying, large-scale mapping, data processing and analysis; and services in climate action, disaster risk reduction, conservation, land management and public health.
Drones and Irrigation
Drones are playing an increasing role in solving issues in agriculture and irrigation management. The use of drones and connected analytics has great potential to support and address some of the most pressing problems faced by agriculture in terms of access to actionable real-time quality data.
Irrigation Planning – Drones and its data collection and analysis capabilities has great potential to support and address some of the most pressing problems faced by agriculture and water management sector in terms of access quality data in less time and at less cost. Flying labs offers services in mapping and documenting farmland and boundaries to support farmers in creating a base for farmland analysis, like for example analysis of irrigation networks by;
Use drone maps, digital surface models, and terrain models for irrigation and drainage management. Multispectral data can also help identify leaky irrigation pipes or areas that need more water.
1) Marking the boundaries of the farm using a high resolution drone imagery.
2) Defining the topographic profile of the land using a digital terrain models.
3) Generating contour lines to better orient the direction of water flow for irrigation purposes and installation new irrigation networks.
For more information on irrigation systems contact DripTech irrigation – 0867 700 7000
For more information on drone mapping and drone irrigation contact Precision aerial – 0773 489 139