DripTech has a wide variety of products for your garden. It is a green finger's haven! Whether you need to store water, irrigate or start a veggie garden with drip irrigation, DripTech will be able to provide you with what you need. 
Collect your rain water.
The rainy season is just around the corner and, with that, comes the need to properly conserve and store water in our Jumbo tanks. These tanks are triple layered to ensure that there is no light penetration, which can cause algae to grow. In addition, the outermost layer is coated with a UV protectant. Our Jumbo tanks are light grey in colour, which makes them inconspicuous in any garden. They are perfect for water catchment from gutters after a heavy rain and will keep your garden lusciously green, no matter what the weather.
If you would like your water to be pumped out of your tank, the Esybox is the way to go.
The Esybox mini.
It is our most compact and intelligent pressure system available. The Esybox is the only one of its kind and boasts a blend of masterful Italian design. It is developed to give maximum performance with minimum effort. It automatically adjusts the flow according to demand whilst being ever so silent. No longer do you need to hear the aggravating sounds of the pump going all night as the Esybox works its magic in silence.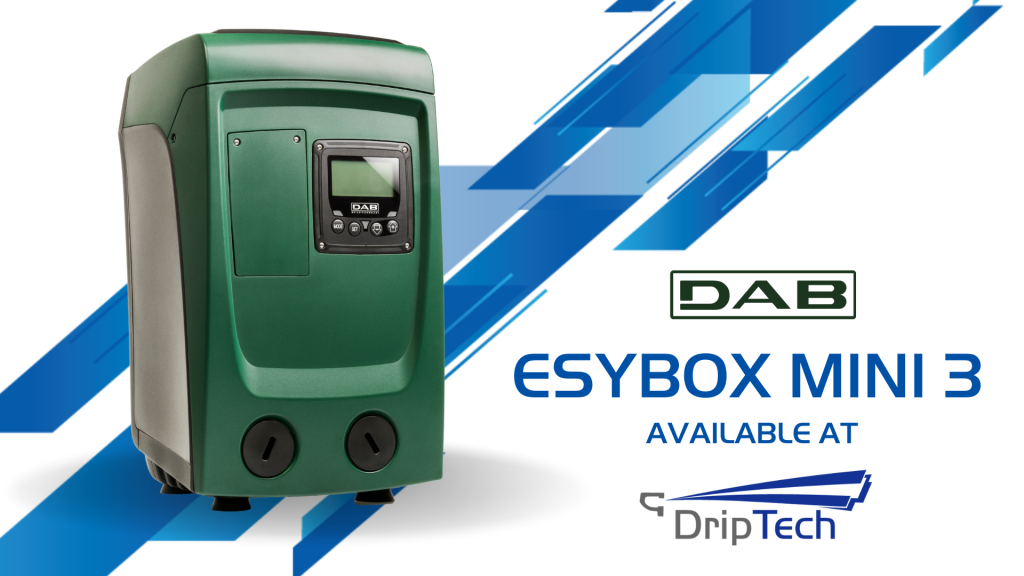 Pop-up sprinklers and flexible turf hydrants are a blessing once installed. Flexible hydrants are certainly simpler to install, and pop-up sprinklers are a little more complex. DripTech salesmen will be able to assist in the layout and amenities needed for these systems at any branch. These intricate irrigators are perfect for watering your garden.
Drip irrigation for your veggie garden.
Veggie gardens are incredibly useful – they are your very own fruit and veg supermarket. However, they can be time-consuming to maintain. Drip irrigation is an ideal solution to this issue, with the perfect ratio of small holes to irrigate your veggies without any attention needed. DripTech stocks a wide range of highly advanced dripline from Netafim that will last through the seasons! Drip irrigation saves up to 50% of water! Low pressure and low volume drip irrigation feeds right to the roots, stopping any rot to your veggies from the top.
For all your garden irrigation needs, visit one of our branches to get the best advice and products!
Contact 0867 700 7000 to find out more