The Netbow and the Arrow dripper are two applications used in the process of subsurface drip irrigation. This is used to apply water below the soil surface through narrow tubes. Drip irrigation has become a popular irrigation method due to its precision and water saving design.
While both offer the same type of application there are key factors that differentiate these products. With their own benefits and disadvantages it is important to research these details to decide which type of drip irrigation is most suited for your scheme.
The Arrow dripper.
The Arrow dripper is predominantly used for any crop that grows in bags, pots, greenhouses and garden pot irrigation. It is a dripper with a drop leading spike that can be easily manoeuvred and placed exactly where necessary which is effective in greenhouses and nurseries.
Soft micro tubes can be placed to maximise outlets to pots creating an adaptable method through the line drippers The Arrow dripper works with a pressure of up to 2.0 bar and has a turbulent labyrinth to create flow through the passage of the dripper.
Disadvantages
The main disadvantage of the Arrow dripper is the water tends to flow down the Arrow dripper and creates a dry upper layer which can cause a serious problem to plants that have a shallow root system such as blueberries.
When there are only a few outlets per container and one of the drippers gets clogged, the plants will instantly become affected so there is zero tolerance for clogging which is difficult due to most common fertilisers being more insoluble.
The Netbow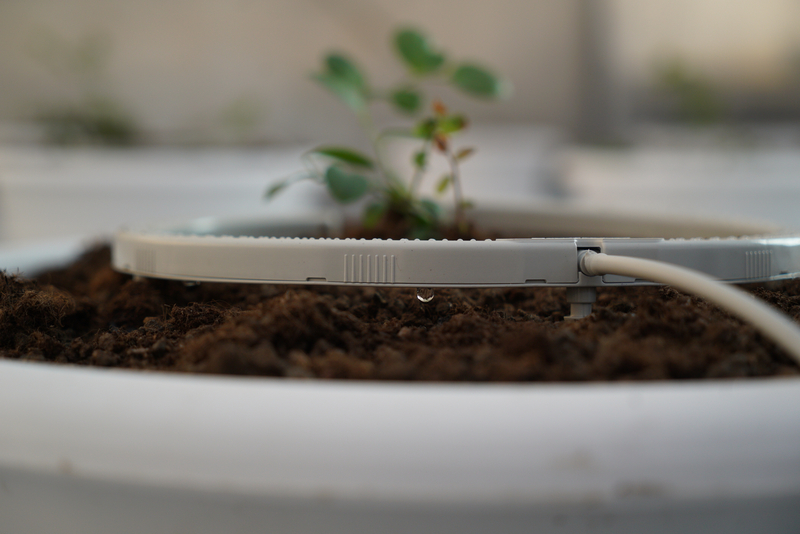 The Netbow was created and designed to resolve solutions to issues other micro irrigation possess, it is a patented multi-outlet dripper developed exclusively for container irrigation which creates uniform distribution of water and nutrients.
It is a circular contraption which is user friendly and simplifies installation and operation minimising human error.
The Netbow is positioned on the substrate surface to guarantee complete, uniform coverage from top to bottom of your substrate with no "blind areas." The Netbow creates optimal root development so the roots develop in every square inch of the container including the top layer to ensure your crop reaches their full growth potential.
The Netbow has revolutionised the turbulent labyrinth to create a high clogging resistant dripper, this will ensure that there is a uniform water distribution with less need for flushing the system to prevent clogging.
With fast installation, easy operation and a newly designed anti clogging system. The Netbow is developed to address the needs for pot-irrigated crops which are highly demanding.